All prices are exclusive of VAT. The tax is automatically calculated by Digistore24 GmbH at checkout and added for the respective country.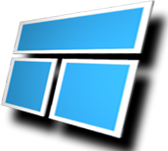 C4D Windows 2023 is a plugin for Cinema 4D with which you can create windows for architectural visualization.

With this specific window maker you can create over 67 different window styles.
It supports 6 basic window types (arch, rectangular, round, trapezoidal, triangle and balcony)
With the extensive GUI you can build many window types.
Add Top Lights and Bottom Lights, give your windows that extra something with bars (not for all elements).
To cut out the window immediately, you can create the corresponding Boolean object.
Give the frame, glass, handle and window sill your own materials or use the already created texture tags.
Open windows or tilt them, change their opening direction or declare them fixed (not for all elements).
Particularly difficult shapes such as arches and pointed arches can be corrected with the Subdivision Fixer algorithm.
The integrated preset management makes it easier for you to quickly save frequently used window types and load them again when you need them.
This is the new version 2023.1 / Udated: 09.05.2023
Info:
Since every customer, who has already purchased the plugin, will get future updates for free, it is important that you provide the correct data when purchasing, especially as far as the email address is concerned.
I will always send a circular mail to all customers with the update. If your download number or time to download is already exceeded and your data is incorrect, it is impossible for me to send you an email.
Single-User is for individuals (single persons, freelancers or sole proprietorships)
Multi-User is for studios, schools, agencies with more than one user and just for one business. The Multi-User-License can only be used by professionals  with more than 1 user, not for private transfer such as friendships.